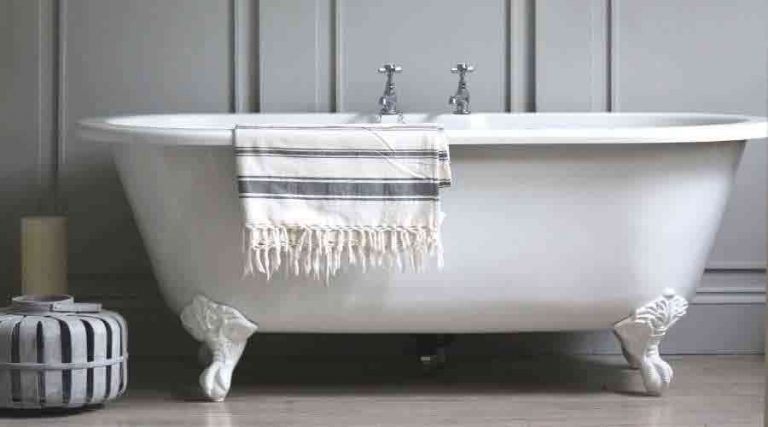 The decision to replace or reglaze a bathtub can be tough. In this blog post, we will look at both options and the benefits of each. Replacing your old tub is great if you want a new bathroom that looks modern and state-of-the-art. This option also has the added bonus of increasing your home's value! 
On the other hand, reglazing your existing bathtub may be a good choice for those who don't care about changing their bathroom's appearance as long as it gets clean easily. If you are looking for an affordable way to improve your bathroom without spending too much money, then this option might just be perfect for you!
The Importance of A Bathtub
In today's world, even children understand the importance of a bath. This tradition is passed down from generation to generation and is a moment of relaxation, warmth, and personal cleansing that often provides a refreshing break from life's busy schedule.
A bathtub is an important part of a home. It's a way to refresh and relax, as well as a place for children to play. In the wintertime, it's a place to warm up and dry off before going into the cold bedroom. There are many different types of bathtubs that can be used for these purposes. What's more, a bathtub can be a cost-effective way to clean a house because you're using water rather than chemicals.
Reasons to Replace Your Old Tub with a New One
Plumbing is a major household expense and by making a small investment, you may be able to save money in the long term. Your old bathtub might be looking less than clean and removing mold and mildew can be difficult and expensive. If your old tub has cracked, perforated, or chipped surfaces, it is time to replace your old tub with a new one! The reasons are plentiful. For starters, you have to factor in the cost of repairs. Old tubs are typically the cheapest option for homeowners who want to avoid spending money on expensive renovations, but they can also present some safety hazards. But if you decide to update your bathtub, then the cost of installation will depend on which option you choose.
Many people have found that a new bathtub is better for your health than an old tub. The main reason is that old tubs can leach chemicals, such as paint and adhesives, into the water. This leads to a chemical imbalance in the water that can be detrimental to your health. In addition, old or damaged tubs can be more likely to release metals and minerals into your water supply.
Replacing an old tub with a new one is not an easy process. There are many reasons to replace your old tub with a new one. Some of these reasons include no more clogs, no more chipping, and peeling paint. You should also explore replacing your tub if you live in a home where the water heater is located close to the bathroom and you notice that the water temperature has become unbearable.
Replacing a tub can be a quick and easy way to update your bathroom from outdated to modern. A new tub will have no cracks, chips, or rust spots. It'll have a sleek finish that can be completed in your choice of color for an even more personalized touch. If you're looking to save yourself some time and money, then upgrading is the right thing for you!
Baths have always been a relaxing experience for many people, but oftentimes they can be a messy ordeal, which is why it's important to make the most of your bath time.
When you have a new bathtub, it is much easier to clean. The surface is smoother and the tub is less porous. This means that soap scum can't get in as easily and it is easier to wash out soap residue from the surface of the tub. It has been shown that this type of bathtub can also last up to 2 years longer because it doesn't suffer from corrosion or tarnishing like a used, old bathtub does.
With the recent availability of new tubs, many people are taking advantage of the smaller size by replacing their old tub with a new one. A small bathroom can feel much more spacious and uncluttered with a new bathtub that takes up less space. You can find a bathtub of any size or style to suit your needs and the space where you plan to install it. Choosing a bathtub with a showerhead also has another added benefit, saving water.
When you think about the number of hours people spend each day in their tub, it can be hard to imagine how anyone wouldn't want to make it as energy-efficient as possible. Even if your old tub isn't decrepit, there are many benefits to upgrading.
First, new models are more water-efficient than old ones. This means they use significantly less water each year. Second, the new generation is easier to clean and maintain.
A new bathtub can help save on your utility bills both from low-flow showerheads and from the water heater. It's even possible to add a drainless aerated spa system to some models so users can enjoy a hot bath without wasting water. Many models also include whirlpool jets for additional relaxation and peace of mind when bathing.
Risks of Not Replacing Old Tubs
Tubs can last for years without ever showing any signs of wear and tear, but as time goes on they will start to age and develop cracks as well as chips. The deterioration will eventually lead to mold and other issues which can be hazardous to your health. It's important to remember that old tubs are not only a hazard to your health but also a danger for anyone who lives in or visits your home.
Pros & Cons of Both Options
Is your old bathtub in need of some serious updating? We have both options for you. You can use our service to replace it or reglaze it. The process is easy and straightforward, but what will be the lasting impact on your property value? Let's break down each option so that you can make an informed decision.
Replace It – Replacing an entire bathtub with new materials is often the best way to get the most bang for your buck while making a significant change to improve the curb appeal of your home. This option typically costs more upfront (this depends on material choices), but over time requires less maintenance compared to reglazing – painting around, caulking around, water buildup under the tub's walls which can cause mold and mildew time.
Reglaze It – Reglazing can save you a lot of money, so it's the option that brings in less cash upon resale, however, reglazed bathtubs will need to be re-glazed every few years because they don't last as long or protect from water damage like new tubs do. This is the lesser expensive alternative for those who aren't ready yet to replace their old bathroom with something more modern but still want an updated look. The glazes are much easier to clean compared to tiles which also add value when selling your home.
The decision ultimately depends on what you want to spend, how much time and effort you are willing to put into maintaining your tub, and whether or not the finish is still in good condition. If it's just surface damage that can be removed with a little elbow grease then reglazing may be worth considering. However, if there are cracks of any size present, water stains from hard water buildup or mineral deposits collecting around the drain area then replacing your bathtub will probably save money over time because new models offer more durability and comfort features.